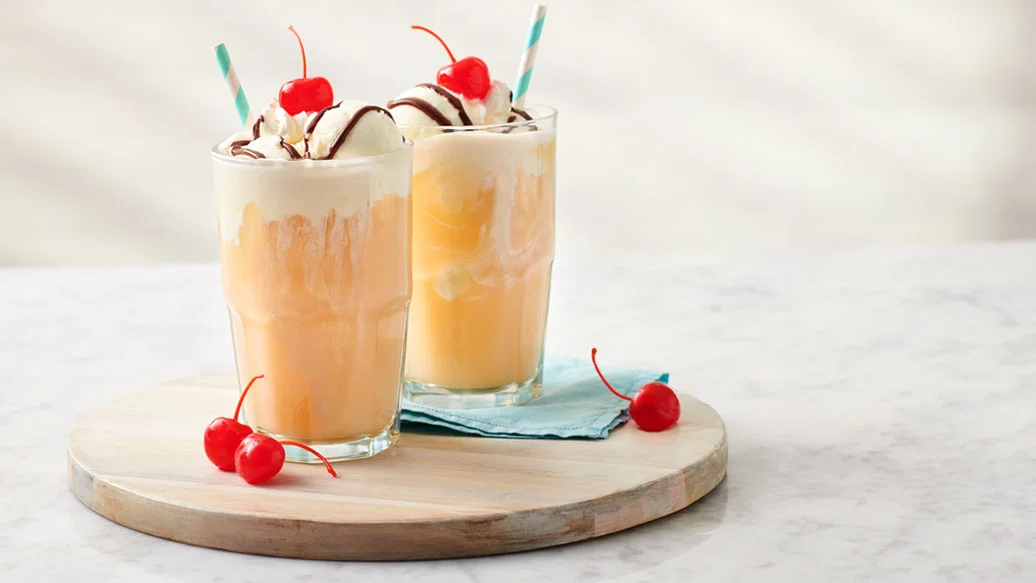 2 min
2 servings
$1.11/serving
There's always room for ice cream, especially when you swap syrupy coke for zero-sugar iced tea that tastes just as good.
Ingredients
1 cup vanilla frozen yogurt or low-fat ice cream
1 1⁄2 cups club soda, chilled
Toppings (optional): sprinkles, whipped cream, chocolate fudge or caramel sauce, chocolate chips
Preparation
Scoop 1⁄2 cup frozen yogurt into two chilled glasses.
Pour 1⁄2 cup prepared tea over each scoop; top with 3⁄4 cup club soda each.
Add toppings, if desired, and serve with straws and spoons.   
Nutritional Information
Per serving: Calories 110, Fat 4 g (Saturated 2.5 g, Trans 0 g), Cholesterol 0 mg, Sodium 105 mg, Carbohydrate 17 g (Fiber 0 g, Sugars 17 g), Protein 3 g.
Tips
Ever heard of cold brewed tea? It's much smoother because the cooler temperature slowly extracts flavour over several hours, which helps prevent a bitter or astringent taste. Place 1–2 tea bags per cup of cold water in a sealed container. Refrigerate for at least 6 hours or overnight. Use within 4 days of brewing.
To chill glasses, rinse with cold water and freeze for 10 minutes.