Grilled Steak Salad Bowls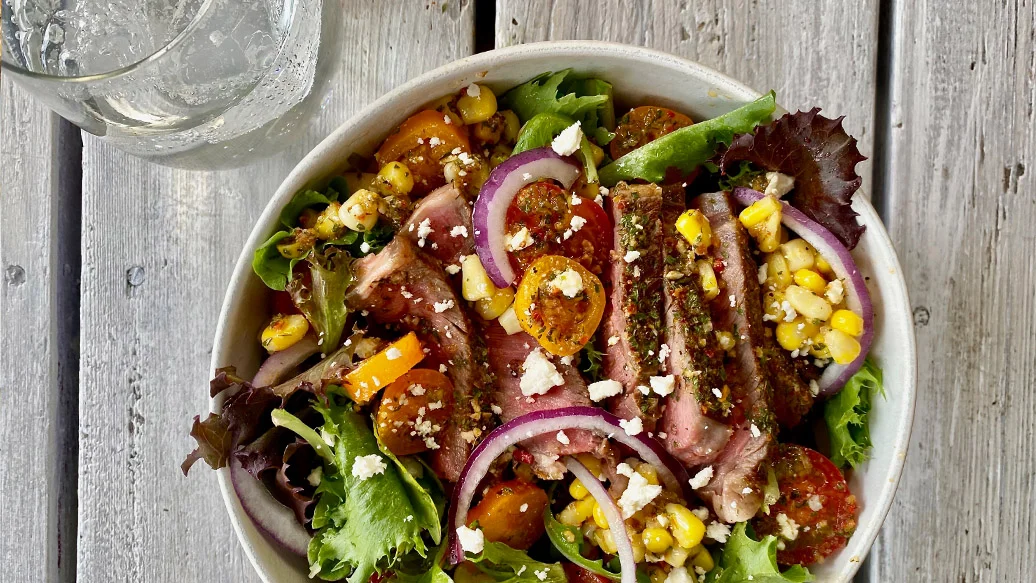 20 min
4 servings
$4.06/serving
Perfectly Balance Your Plate
This is a perfectly balanced plate.
Ingredients
1 lb (450 g) grilling steak, such as top sirloin, striploin or ribeye, about ½ to 1" thick
2 tbsp + 1 tsp oil, divided
2 tbsp cider vinegar
1 pint cherry tomatoes
2 cups fresh or frozen corn niblets
1 cup crumbled feta cheese
8 cups mixed greens
Toppings (optional): Better Than Bacon Topper, sliced red onion
Preparation
Preheat grill to medium-high heat.
Meanwhile, coat both sides of steak with 1 tsp oil; rub in 1 tbsp dressing mix. Let stand to marinate while preparing remaining ingredients.
For dressing, in a large mixing bowl, whisk together remaining 1 tbsp dressing mix and vinegar with remaining 2 tbsp oil.
Cut tomatoes in half, and then add to bowl with dressing. Add corn and feta; toss to mix. Place greens on top; don't mix. Set aside.
Place steak on grill; close lid and grill to desired doneness, about 3 min per side for medium rare.
Remove to a cutting board, if you have extra time, let steak rest about 2-3 min before slicing (this keeps it juicy). Thinly slice, and then add to bowl with salad; toss well so dressing is evenly mixed. Divide salad between four plates; add toppings, if desired.
Nutritional Information
Per serving: Calories 430, Fat 21 g (Saturated 8 g, Trans 0.1 g), Cholesterol 95 mg, Sodium 490 mg, Carbohydrate 23 g (Fiber 6 g, Sugars 7 g), Protein 36 g.