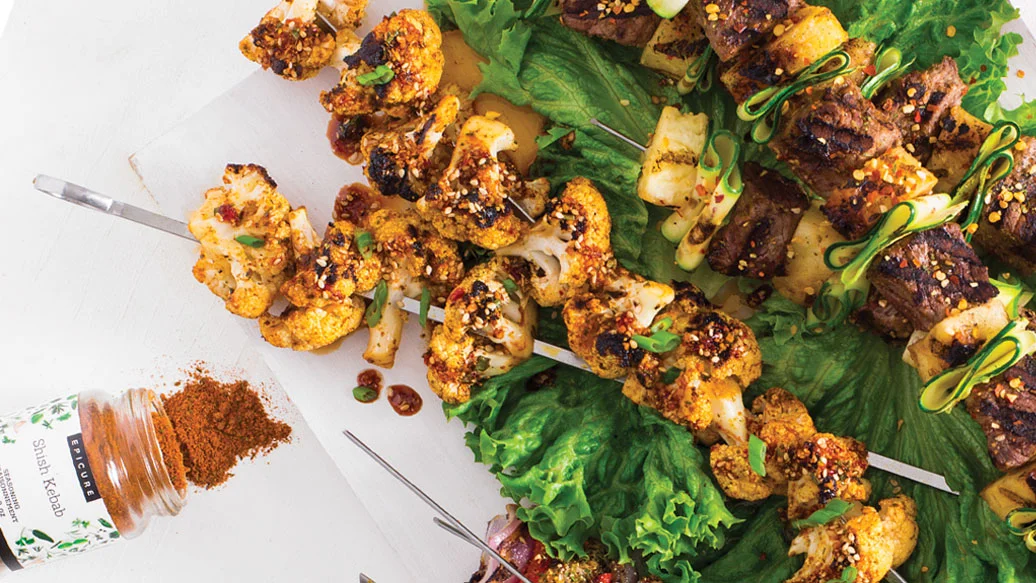 20 min
4 servings
$1.26/serving
Perfectly Balance Your Plate
Serve with 2 cups mixed greens, 1⁄2 cup cooked grains, and 1⁄2 cup chickpeas.
Ingredients
2 heads cauliflower
3 tbsp olive oil, divided
2 tbsp soy sauce
Topping suggestions (optional): chopped green onion
Preparation
Preheat grill to medium high.
Chop cauliflower into small pieces. Place in Multipurpose Steamer; cover and microwave on high for 2 min.
Uncover; drizzle with 2 tbsp oil and seasoning. Stir to coat.
Thread onto 12" metal skewers. Grill for 6–8 min, or until lightly charred.
Meanwhile, in bowl, stir together dry glaze, jelly, soy sauce, and 1 tbsp oil.
Place skewers onto a large platter; drizzle with sauce and sprinkle with toppings, if desired.
Nutritional Information
Per serving: Calories 250, Fat 12 g (Saturated 2 g, Trans 0 g), Cholesterol 0 mg, Sodium 570 mg, Carbohydrate 31 g (Fiber 14 g, Sugars 14 g), Protein 10 g.
Tips
Let cauliflower marinate for 15 min before grilling to absorb flavours.