Slow-cooked Saucy Pot Roast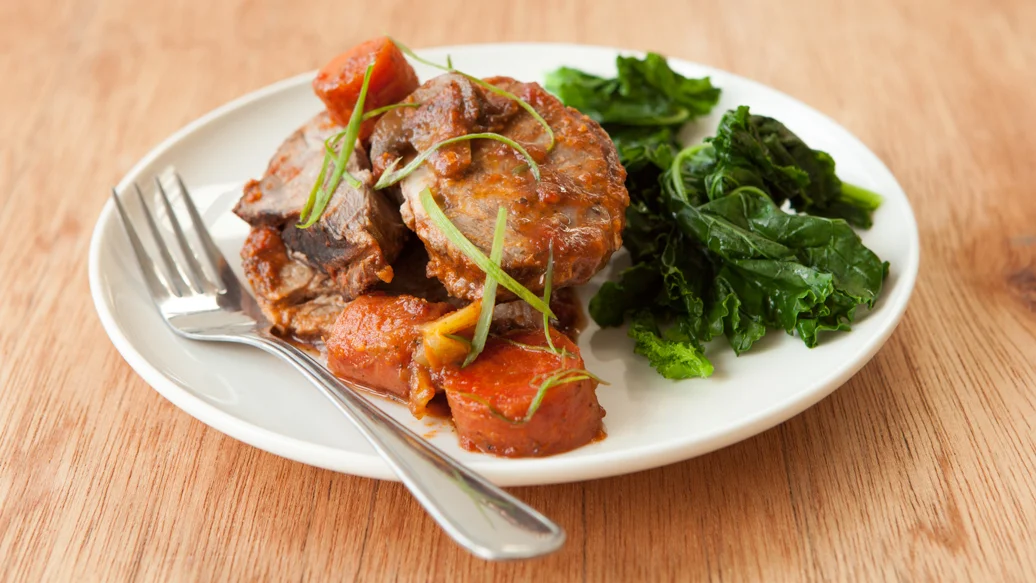 6 hours & 10 min (includes 6 hours slow cooking)
18 servings
$1.45/serving
Cook this recipe once and eat it for days! Make a big batch and enjoy Pot Roast Pasta tomorrow!
Perfectly Balance Your Plate
Serve with 1⁄2 cup mashed potatoes and 1 cup steamed veggies.
Ingredients
4 carrots
2 celery stalks
1 can (28 oz/796 ml) plum tomatoes
4 cups sliced mushrooms
2 cans (5.5 oz/156 ml) tomato paste
2 tbsp Sun-Kissed Tomato Dip Mix, or Spinach Dip Mix
2–3 tsp sugar
4 lbs (1.8 kg) beef pot roast (cross-rib or blade)
Preparation
Peel and slice carrots. Chop celery. Drain and rinse tomatoes.
To slow cooker, add carrots, celery, mushrooms, and tomato paste. Add tomatoes and, using your hands, gently break them up. Stir in dip mix, seasoning, and sugar.
Season beef with salt and pepper and add to slow cooker. Spoon liquid in slow cooker overtop.
Cover and cook 6 hr on high or 10 hr on low, until beef is fork-tender.
Thickly slice beef and serve with sauce from slow cooker.
Nutritional Information
Per serving: Calories 350, Fat 19 g (Saturated 8 g, Trans 0 g), Cholesterol 120 mg, Sodium 190 mg, Carbohydrate 10 g (Fibre 2 g, Sugars 3 g), Protein 32 g.