Eggilicious Meatloaf with Sun-dried Tomato Relish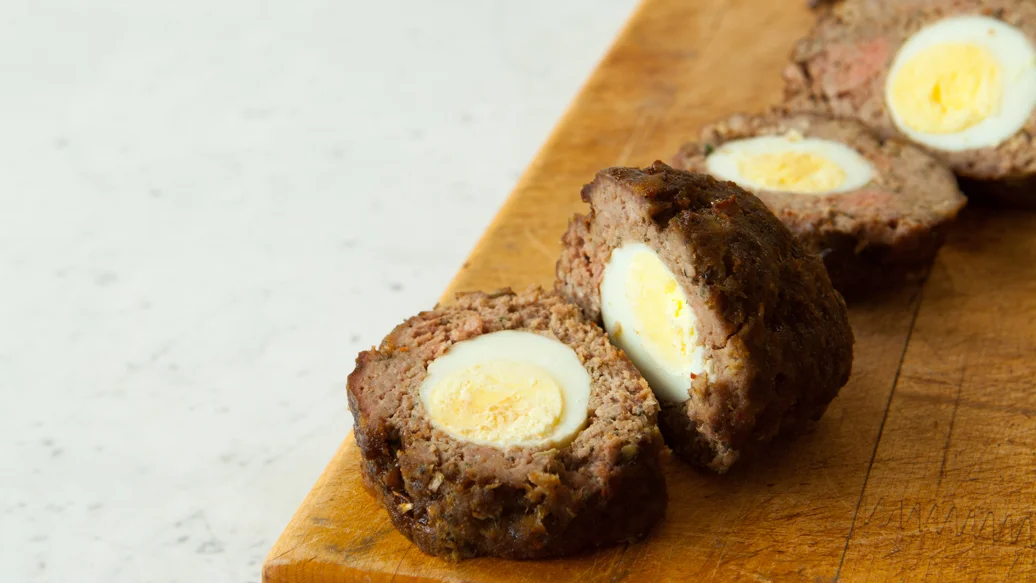 1 hour
8 servings
$1.35/serving
An eggy twist on a family classic!
Ingredients
RELISH
1 can (14 oz/ 398 ml) diced tomatoes
2 tbsp Sun-Kissed Tomato Dip Mix, or Spinach Dip Mix
1⁄4 cup brown sugar
1 tsp balsamic vinegar
2 tbsp olive oil
MEATLOAF
2 large eggs
1⁄4 cup low-fat milk
1 cup dry breadcrumbs
2 lbs (900 g) lean ground beef, chicken or turkey
3 hard-cooked eggs, peeled
Preparation
Combine all relish ingredients in Multipurpose Pot - 8 cup. Bring to a boil, then cover and simmer for about 15 minutes to thicken and let flavours blend.
Preheat oven to 375° F (190° C).
For the meatloaf, whisk eggs with milk in a large bowl. Stir in breadcrumbs and Seasoning for Meatballs & Meatloaf. Crumble in beef and season with Sea Salt. Mix well.
Divide meat mixture into 6 equal portions. Place 3 portions on Sheet Pan lined with parchment paper. Shape and flatten each into a small rectangle. Make a dip in each and place 1 hard-cooked egg in centre. Cover each with remaining meat portions and press edges together to form mini loaves.
Bake in centre of oven 30–35 minutes, until an instant-read thermometer registers an internal temperature of 160° F (71° C). Let stand 5 minutes, then slice.
Serve with Sun-dried Tomato Relish.
Nutritional Information
Per serving: Calories 300, Fat 12 g (Saturated 3 g, Trans 0.5 g), Cholesterol 200 mg, Sodium 220 mg, Carbohydrate 18 g (Fibre 1 g, Sugars 10 g), Protein 30 g.